17 Nov 2018
【SNAP】These Girls are kicking it in the Onitsuka Tiger style
On October 18th, HIGHSNOBIETY JAPAN, a men's media outlet from Berlin, held a HIGHSNOBIETY JAPAN MAGAZINE LAUNCH PARTY supported by Onitsuka Tiger at Sound Museum Vision in Shibuya.
Onitsuka Tiger caught up with three girls at the party who stood out for their fashion. We asked each of them about their ensembles.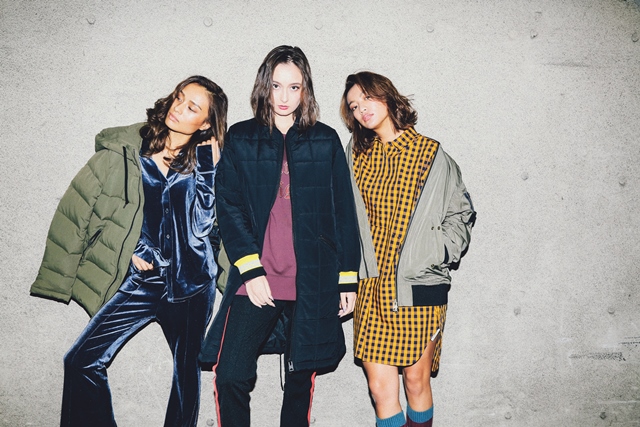 Juri(@juju_tokyo)is outfit highlighted this season's hot material, velour. She put together a sporty Down Jacket and pair of "MONTE CREACE" with velour clothes underneath, making it an interesting mix of styles which resulted in a kind of modified sporty-fashion look.

「SHORT DOWN JACKET」¥53,000 / 「WS VELOUR SHIRT」¥10,000 / 「WS VELOUR PANT」¥9,000 / 「MONTE CREACE」¥12,000
Asuca(@asucataira) had a Bomber Jacket on over a dainty check-pattern dress, for a fusion of masculine and feminine elements. And on her feet, she was sporting a pair of big, chunky "RINKAN BOOTS".

「BOMBER JACKET」¥23,000 / 「WS SHIRT DRESS」¥12,000 / 「MIDDLE SOCK」¥1,200 / 「RINKAN BOOT」¥13,000
Ashley (@kutycat) went for that urban, inner-city look with her Sweat & Track Pant outfit, along with a nice, clean Zip Coat, and for a more cutting-edge fashion-conscious element, the "MNR MOCCASIN AP". The fusion of different styles helped her achieve a kind of sophisticated sporty look with a fashionista flair.

「WS PADDED ZIP COAT」¥39,000 / 「PATCHED SWEAT」¥10,000 / 「TRACK PANT」¥9,000 / 「MNR MOCCASIN AP」¥16,000
How about trying out a fusion look of your own? This season you can't go without some sort of outerwear, so it's the perfect time to experiment with blending styles. Definitely be sure to give some thought to your Winter wardrobe.
---
Photo:Kouichi Nakazawa (ZENI.LLC)/@koichicks
Direction:masahiroogura/@oggyogubone