09 Jul 2017
Yu Shirota look.2
There's another side to Yu Shirota that might surprise you.
This is part two of our interview with him.


Yu Shirota rocks his Onitsuka Tiger gear well. He looks calm and reserved in front of the camera, but behind the scenes he breaks character, laughing and having a good time during our chat. In this second part of our interview with him, we see that more personable side to him, you've got to check this out.
──Can you give us a little insight into what makes you unique?
I guess it would be my height, 190 cm, and my well-defined facial features. Until I was 20, I actually had a complex about them. But I guess those traits are what have made me special as an actor. Occasionally there will be another mixed-race celebrity who resembles me though (haha).
Other than appearance… I'm kind of a big baby (laughs). I'm always talking and hyper, so that nickname fits. On the other hand, when I'm low energy, it's obvious. I just stop talking, so you can tell I'm not feeling it.
──What kinds of things are you into?
Movies, plus making and listening to music. And games! There's this card game called Werewolf, in it you have to guess who's lying, and figure out riddles to escape from the room. I like using my head to solve problems.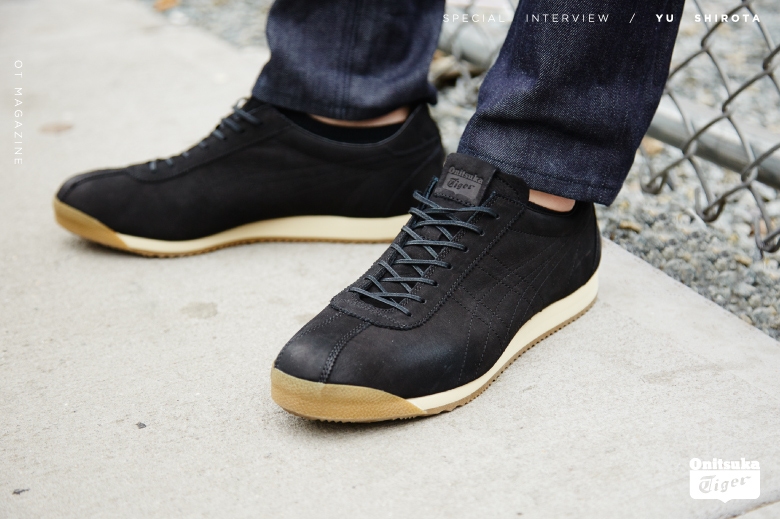 ──What's something you can't live without?
Sweets! I love them (lol). I'm always eating chocolate and ice cream. Whenever I go to a buffet, I have more dessert plates than regular ones, that's how much of a sweets fiend I am.
Oh, and people too!
──You can tell by talking with you that you're a people person.
Yeah, I love people. That's why I'm so friendly (smiles). I like talking to people and being with friends so much that when I get close to people, I develop a kind of dependence on them.
I'm like a dog. When I see someone I'm like, "woof woof!" and then I just want to run around and play with them (haha). I don't have that cat-like aspect of being aloof.
──Okay, time for a short-answer Q&A session! Let's try to keep the pace quick.
Absolutely! (smiles)
Q: Which color do you prefer, red or blue?
A: Red!
Q: Indoors or outdoors?
A: Outdoors.
Q: Apples or strawberries?
A: Strawberries… No, apples! Tough choice (haha).
Q: Summer or winter?
A: Summer!
Q: Japanese or Western food?
A: Um… Western food I guess.
Q: If you were to reincarnate, would you rather be a man or a woman?
A: Hm, that's a tough one. Can you give me a while to think about it? (lol) No, but… I guess I'd be a woman! That way I could have a completely different kind of experience. I want to feel firsthand the highs and lows of being a woman.
──It certainly sounds like you respect women.
Absolutely! Women are the reason we've been able to create this world. They have a psychological toughness, don't they? With the combination of their psychological strength, intelligence, and sometimes also their cunning… men just can't handle that kind of pressure (laughs).
So that's why I'd like to see how it is to be female. Including giving birth. I mean, isn't it amazing to be able to create a life and bring it into the world with your own body? It's a part of life men can't understand; even if we wanted to, the best we could do is imagine how it would be.
──So, now that you're 30, are you seeking any new challenges?
Yeah, I'm trying to figure out what I want to try or learn about this year. Like this hair color is something new I wanted to try, because I wanted to kind of re-create myself. I'm focusing on musicals, and the other day on stage I made my first attempt at a play with no singing whatsoever. I want to keep challenging myself professionally with new work like that.
Also, I'd like to further my career overseas. So doing this kind of collaborative project with a brand I like is a big thing for me, I appreciate the opportunity.
YU SHIROTA
Born in Tokyo, December 26th, 1985
Yu Shirota made his debut in the 2003 musical Sailor Moon, and has been involved in a wide range of genres since. His TV drama appearances include Rookies, Heart of a Samurai, SPEC, GTO, and Yusha Yoshihiko to Michibikareshi 7 nin.
His big-screen appearances include A Good Husband, Arakawa Under the Bridge, and Akegarasu. His next movie appearance is in Ajin: Demi-Human, slated for release on September 30th this year.
On the theatrical stage, he played the role of the youngest Tod in the 2010 musical Elisabeth, and was awarded Best Newcomer by the 65th Japanese Agency for Cultural Affairs in the Drama category. He got his first leading role in 2016 for Apple Tree. In 2018 he's set to star in Bullets over Broadway.
In music, he had his self-written CD debut with U. He's scheduled to appear in a special concert this December, called 4 Stars 2017, along with Ramin Karimloo, Sierra Boggess, and Patina Miller.