19 Jul 2018
Mio Imada look.1
Her big break is certain to come in 2018!
This actress has improved in leaps and bounds.
An interview with Mio Imada.
Mio Imada gave a great performance as Airi this past Spring in the drama Boys Over Flowers Season 2, which thrust her into the limelight. She's appeared in various TV dramas and movies, making her a hot topic in the entertainment world, with many considering her to be the next big thing. In LOOK.1, Mio shows that her trademark cute look has evolved into something more mature. Read on, you definitely won't want to miss this interview!
── What do you think of the Onitsuka Tiger items you wore today?
This velour dress is so nice. I want to get one for myself (smiles). It's easy to move around in, and the material feels really good. And the shoes were so light! I'd always thought Onitsuka Tiger shoes were kind of sporty, I had no idea they had any designs that were like boots, so that was a nice discovery.
── What do you normally wear during your time off?
Mostly casual stuff, like t-shirts and jeans. Clothes that are easy to move around in, and a little tomboyish. I also wear wide-leg pants a lot. And, of course sneakers! Most of the situations I'm in require flat shoes rather than heels. My basic standard for choosing clothes is whether they look simple at first glance, but I also like things with sort of elaborate designs sometimes too.
── For this shoot you showed a lot of different looks and expressions; did you use anything as a frame of reference for that?
I like to imagine the appearances of characters when I read books, and I often draw on that mindset when doing a fashion magazine shoot or modeling gig, so yeah, using that imagination probably helps me get into character.
── Of all the characters you've played, which has been the closest to the real you?
I'm not sure about the closest personality, but the one I can most closely relate to in terms of feelings would probably be Airi from Boys Over Flowers. There are parts of me that are just like her, when it comes to thoughts of a boy I like or close friends, I feel just like she does. As a woman, and as a person; but as for my personality, I don't want to be the same as her (haha).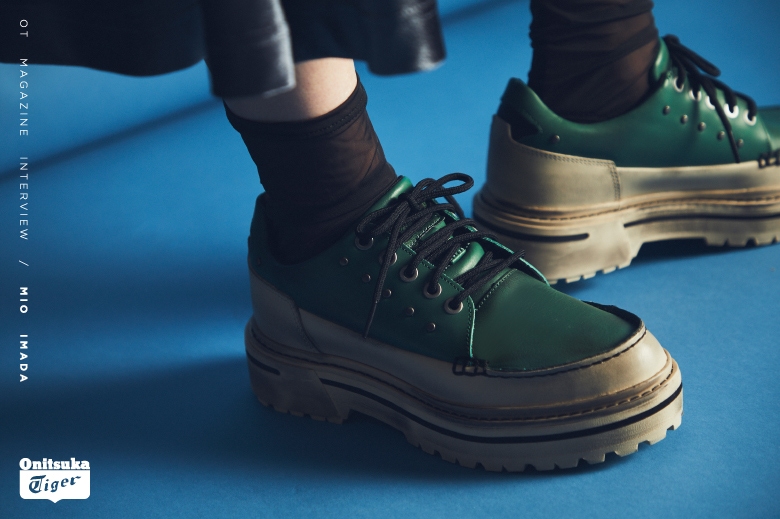 ── Speaking of personalities, could you tell us a little more about yours?
Um… I hate to lose (smiles). Since starting this kind of work, I've begun to feel like that. I've never really had a situation that has been frustrating and hard for me to handle before. Whether it be failing an audition, or seeing myself on air and feeling like I could have done better, it's made me aware of a part of myself that gets frustrated with imperfection.
── What kind of roles are you looking to try in the future?
I played a girl with a strong backbone in Demekin, who had a strong sense of being true to herself, so now I'm hoping to have the opportunity to do something on the other end of the spectrum, and play a character who's quiet and timid.
── You've been hitting it big lately on Instagram too; are you into Instagram much?
I've been getting lots more followers since playing Airi in Boys Over Flowers, so I'm pretty happy about that! The thing with selfies…. They may be the same to some extent, but depending on the day, there will be different elements and details. I take a lot of pictures which I end up erasing that the world will never know about (LOL). Sometimes I just can't get a selfie right, no matter what I try, and just totally give up on it (haha).
── So, what kinds of situations are you likely to upload something to Instagram then?
I don't really do much with food. Everyone's always posting these awesome food shots, right? But I'm no good at it (lol). So, you know… they're pretty much all about me (laughs).
── Last up, tell us about something you're looking forward to this summer!
I've got plans to go to two different fireworks shows! I can't wait for those!
→ Next, in LOOK.2, Mio Imada opens up about all of her strengths! We delve into some personal topics, and she tells us about some secret marriage aspirations.
MIO IMADA
She's from Fukuoka Prefecture, born on March 5th, 1997.
In 2016 she moved to Tokyo to pursue a career in acting.
She became known as "the cute girl from Fukuoka" with appearances in the 2017 dramas, Fugitive Boys, The Public Enemy, Kioku, and the feature film Demekin.
She delivered an impressive performance of Airi on the TBS drama airing in April, 2018, called Boys Over Flowers Season 2, amassing over one million followers on Instagram, becoming an overnight success in the process, and widely considered to be the next big thing in the entertainment world.