01 Oct 2021
【ONITSUKA TIGER/Limited quantities of made-to-order shoes offered for a limited time to JAL Digital Experience's Class Explorer Member Club, in collaboration with Japan Airlines 】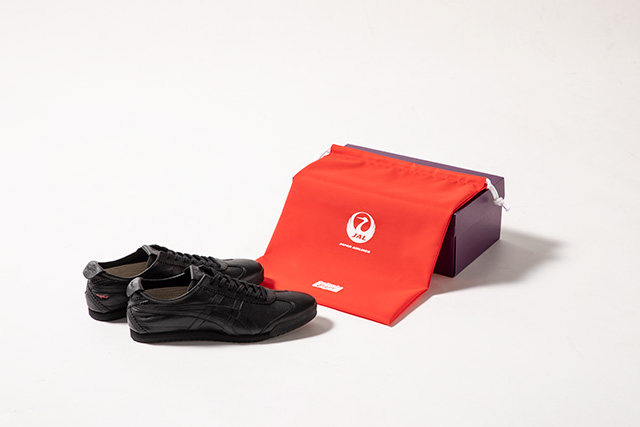 Onitsuka Tiger is offering made-to-order shoes based on the MEXICO 66 DELUXE model in limited quantity and for a limited time to members of Japan Airlines' JAL Digital Experience's Class Explorer club.
The collaborative shoes sold in this program to CLASS EXPLORER members are based on the "NIPPON MADE" model MEXICO 66 DELUXE. The inner part of the heel has the red silhouette of an airplane, while the JAL logo is embossed in the shoe tongue. With business and casual styles, the designs match a variety of scenarios.
These NIPPON MADE models are thoroughly steeped in Japan's tradition of fine craftsmanship, the shoes being made of soft goat leather created from materials and textures carefully prepared by the craftsman. They are models of high quality and foot-fitting comfort, shoes of simple design for both men and women that will be cherished for years to come.
To transport the shoes while traveling, we have also created a special carrying case with the brand logo. Orders in limited quantities will be taken from CLASS EXPLORER members from September 30th until October 21st.