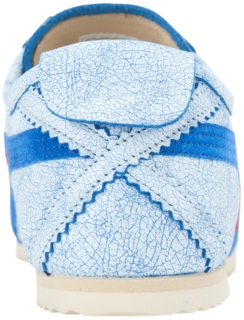 Mexico 66 Slip-On Deluxe
Based off our iconic Mexico 66 shoe, removing the laces acccentuates a relaxed casual look. This particular model belongs to our unique "Nippon Made" collection.
$300.00
Added to Your Basket

Item(s) in your basket

Basket Subtotal:

Continue Shopping
NIPPON MADE
Design Notes
The Mexico 66 Slip-On is based off the iconic Mexico 66 shoe, but by removing the laces, it accentuates a more casual look and design. It features a stitched tongue to the inside panels of the upper, while the toecap and heel consist of enhanced suede for a lightweight, low-profile finish.
This particular Mexico 66 Slip-On Deluxe model belongs to our "Nippon Made" collection. Since starting in 2008, "Nippon Made" conveys Japan's craftmanship of making things. Building one of these shoes is a labour-intensive process: from the stitching to the dying, every step is done by a skilled hand. Everything from the materials used, and the attention to detail, portrays the height of Japan's artisanal quality.